Description
Strange instruments is collection of wild and unconventional instrument sound effects. Featuring 30 instruments; this collection covers a wide range sounds from a variety of unique props. From whirling and whooshing Bullroarers, Wind Wands, and Twittering Bamboo; to dramatic impacts and pitch bending from Gongs and Cymbals in water; to the strange calls and warbling of PVC Horns, Overtone Flutes, and Bamboo Swazzles,… the sonic scope of Strange Instruments is wide and varied.
While these props have their place in some forms of music, they were specially selected, performed, and recorded for rich sound design possibilities. Discover how this wild new source material can bring a fresh perspective to your design. Check out the previews of what this library contains at normal speed and what can be achieved with just simple pitch shifting!
---
Sound Effects
Strange Instruments can be split into three major themes:
Air
These instruments are driven by forced air through reeds, tubes, and diaphragms. Be it lung power, gravity, or hand pump, they create wonderfully natural sounds that can be particularly useful for creature vocal sound design. Rather than leaning on animal recordings for your next creation, give Strange Instruments a try for a fresh perspective!

Included Instruments:
Bamboo Swazzle – Didgeridoo – Groan Tube – Groowah – Moo Box, Overtone Flute – PVC Air Horn (Small & Large) – Sound Worm – Twittering Disc – Vogelpfeife – Wind Whistle
Percussion
The percussion section of Strange Instruments is everything but traditional. These nonconventional instruments shine by bringing a surprisingly wide variety of percussive, rattling, clicking, plucking, and tone bending source material.

Included Instruments:
Bamboo Buzzer – Crash Cymbal (Water) – Flexatone – Frog Buzzer – Gong (Water) – Jaw Harp – Ocean Drum – Rainstick –  Ride Cymbal (Water) – Thunder Drum – Vibraslap
Whirl
These instruments create unique droning, whooshing, and twittering sounds as they whirl through the air. Wooden blades buzz and spin… Bamboo tubes oscillate and whistle… Long sets of bands vibrate and hum… all to create otherworldly sounds you're sure to find useful for sound design.

Included Instruments:
Bullroarer (Small, Medium, & Large) – Twittering Bamboo (Small, Medium & Large) – Wind Wand
---
Radium Patches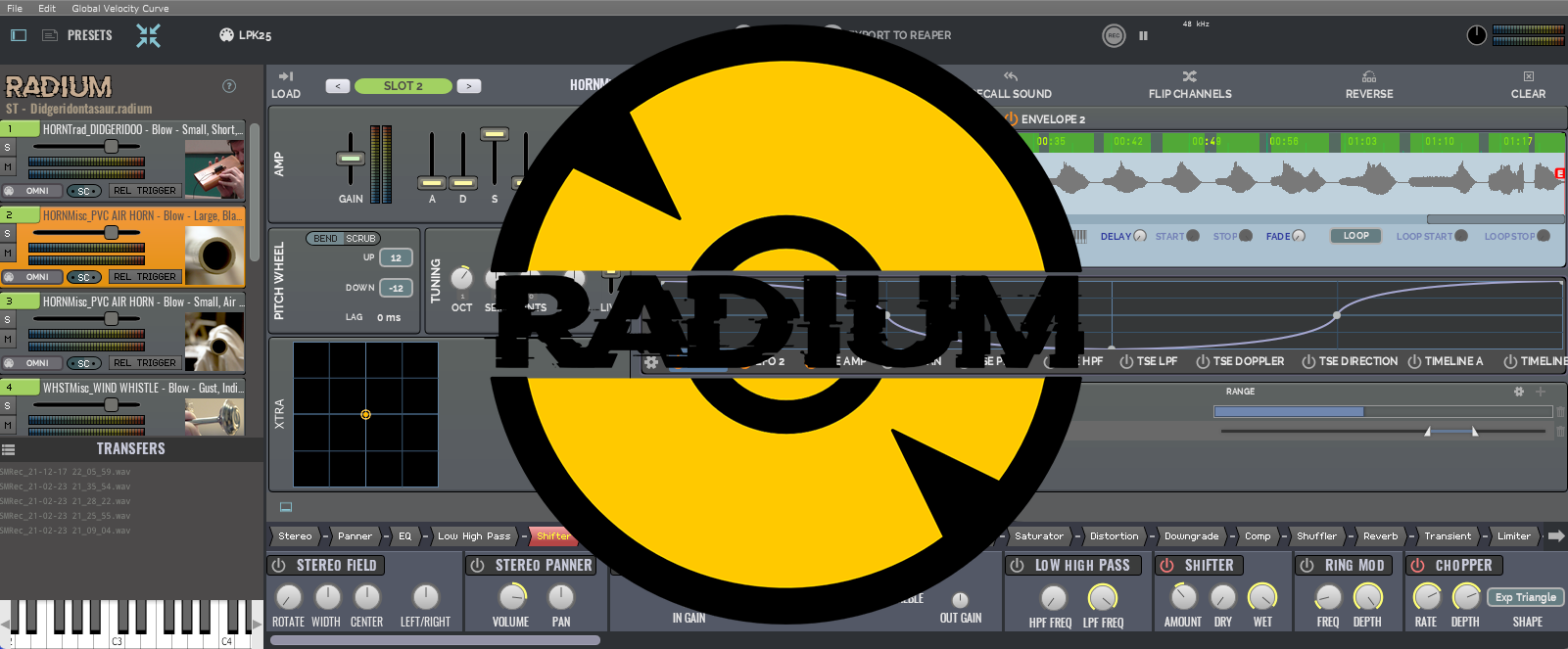 These instruments may be traditionally used for music, but the sound design possibilities are endless. To showcase some of the potential and inspire your design brain, 30 Soundminer Radium patches are included with Strange Instruments. These patches weren't just made by Collected Transients… you'll also get patches from the amazing sound design brains of Tim Walston and Kai Paquin.
The patches cover everything from designed creature vocals to whirring sci-fi vehicles and are accessible via Soundminer's amazingly useful Radium sampler and Plugin. Open them up to use them as is or easily modify them to suit your needs. Soundminer/Radium software not included with purchase.
---
And As Always…
Ultrasonic Content

Like every other sound design library from Collected Transients, Strange Instruments was recorded at 192kHz/24bit with microphones that capture ultrasonic sounds. "But I'm not a dog!" you say, "I only hear to a mere 20,000 Hz."
Fret not, Sound Designer, the ultrasonic content in these collections is captured to allow you to massively pitch-shift and process the sounds while retaining fidelity and revealing elements you couldn't perceive before. Don't take our word for it. Listen to demos and learn more here!
Thorough and Consistent UCS Metadata


Strange Instruments offers thorough UCS compliant metadata that works across all popular audio database software. Each file is embedded with exhaustive information about the recording. Aside from the usual 'description', many other fields are available that provide useful tidbits like recording notes, microphone information, category, and sub-category. All sound effects also come embedded with an image showing exactly what was being recorded.